I have said many times that Charlotte Luce is me with upgrades! Just like I wrote Nick to be my fantasy man, I also gave Charlotte all the attributes that I'm lacking. But there's one place where I'm stronger, and that's as a cook. If you've read The Greysons you know that Charlotte takes cooking lessons, so today I'm going to share the first dish that she makes…my famous lasagna.
When my girls were younger they used to help me in the kitchen and we even made up a song to sing while making this family favorite. Now they make it with their kids and the tradition continues!
*This recipe calls for pork sausage and that's how it's best, but if religious reasons call for you to abstain from pork, by all means use ground beef.
DANA L'S FAMOUS HOMEMADE LASAGNA
1 lbs good pork sausage
4-6 cloves of garlic peeled and sliced
Brown meat and garlic in a large skillet until brown, breaking the meat up as it cooks. Drain well.
Add 1-16 oz can whole or diced tomatoes, 12 oz. tomato paste, 1-T Italian seasoning, 1-T Basil and 1 t garlic powder. Simmer for 20 minutes
Combine 3 C Ricotta or cottage cheese, 8 oz softened cream cheese, 1 C good plain Greek yogurt, like FAGE, 1 C freshly grated Parmesan cheese and 2 beaten eggs. When mixed well add 2- T dried parsley. Set aside.
Spray the bottom of a 9×13, or lasagna pan with cooking spray. Line the bottom with precooked lasagna noodles, taking care to completely cover the bottom. Sometimes I have to break noodles to cover the ends.
Spread 1/2 of the cheese mixture over the noodles and cover it with 8oz of Mozzarella cheese, or 1/2 of a 16 oz package of shredded mozzarella. Top with 1/2 of the meat mixture, laying it on by spoonfuls, but not spreading it out.
Repeat layers so you end up with meat on top. (The cheese will melt through and make a beautiful presentation.) Bake at 375 degrees for 30 to 40 minutes until brown and bubbly. Let sit for 5 minutes before serving.
This recipe can be made ahead of time and frozen, or refrigerated if cooked with 24 hours. Be sure to thaw before cooking and to adjust cooking time if you're not baking right away.
I know this recipe sounds complicated, but it truly isn't. The first time it seems a little scary, but once you've made it you'll realize how easy it really is.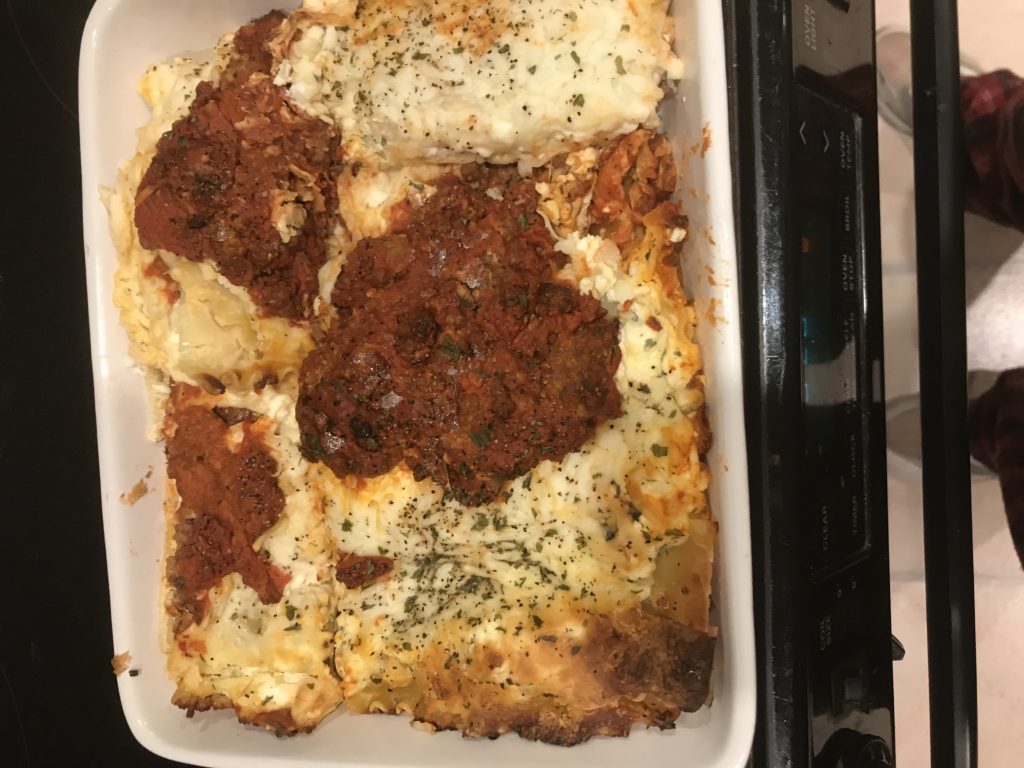 The picture above are pieces of lasagna that I had leftover and cut to fit in a baking dish. But it shows you what yours will look like. Cheesy, meaty and delicious!
Until we read…or cook…again!📚
Blessings,
Dana L.❤️