Years ago I knew that someday I wanted to write a book that would take place on Anna Maria Island, Florida. It was a really long time from that goal to the completion of Lottie Loser, but it happened, and I couldn't be happier with the outcome.
Why AMI, you might ask? In the early seventies my parents retired and bought a condo on Long Boat Key. They didn't plan for Florida to be their permanent home, but they fell in love with the area, and never looked back. From the condo they bought a house, and eventually built a home at Key Royale, in the sleepy little village known as Anna Maria Island.
Today AMI is booming, the sleepy little village a thing of the past, but our family still loves it, and travels there as often as possible. My parents sold their home and moved inland quite a few years ago, and sadly my dad passed away, but mom is still active and goes to the island every Sunday after church for brunch.
Because of my book series I get asked a lot for recommendations on restaurants and places of interest on the island. Since this is spring break season, I thought it would be a good time to share our family favorites.
Hands down the best place to eat is The Cortez Kitchen. The atmosphere is old Florida and the food is out of this world! A grouper sandwich, onion rings, cheese grits and a Blue Moon Beer is pretty close to heaven on earth. The restaurant is off the beaten path, and can be hard to find, so definitely get directions, but definitely go. http://thecortezkitchen.com
The other place you'll want to go is The Donut Experiment. People get up at the crack of dawn…and I do mean dawn…to wait in line to order donuts that are made fresh to order. They have everything from my favorite, Key Lime, to The Captain's favorite, Maple Bacon. The donuts are good, but it's the experience that you go fo. I hear you can order online now, but where's the fun in that? http://thedonutexperiment
A trip to AMI would not be complete without stopping at the Island Coffee Haus for a delicious start to your day. The release event for Call Me Charlotte was held there, and things couldn't have gone better. http://www.islandcoffeehaus.com
Your last venture has to be to Ginny's & Jane E's! This wonderfully eclectic Cafe and Costal Store has everything you need for your adventure on Anna Maria Island, plus they sell Lottie Loser and Call Me Charlotte! You can take home a memory made by a local artist, have lunch, or even a beer or a smoothie, but it's definitely a destination in itself.http://ginnysandjanees.com
I've given you options to get your vacation started but you'll want to find your own pieces of paradise, and that can only happen by exploring this charming island, and taking chances. You can't go wrong…just go, and start making your own memories.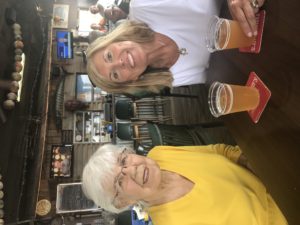 Until we read again📚
Blessings, ❤️
Dana L.