Zelle and I became friends this past year through our publisher, Southern Yellow Pines, and sealed the deal at the 2018 Florida Authors and Publishers Conference in August. We share many similarities in our writing style and genre, although our characters are totally different. I have read and thoroughly enjoyed both of her books, and encourage you to try them for yourself. They are available from all the large retail channels as well as http://www.syppublishing.com
When did you first realize you wanted to become a writer?
Shortly after my daughter was born, I tossed around the idea of writing a novel, but life got in the way and raising my children took priority. It wasn't until twenty plus years later that I was sitting at work one day and the bug bit me again. I kept my notes and writing to myself for a while. I didn't even tell my husband
Tell us the story of your husband finding notes around your house with bits and pieces of ideas for a novel?
One day while we were cleaning the kitchen he ran across a scrap piece of paper that I had written the beginning of chapter one on and began reading it. I yanked it away and whispered in embarrassment that I was writing a story. He was more excited about it than I was and has been supportive all the way. It took three years to write my debut novel 'Paisley Memories'.
How did you come up with the story-line for Paisley Memories?
I'm one of those people who can drive a car and if a random image pops up, I'll write a scene or story in my head. With this particular story, I was thinking what a single, teenage, mom would do faced with raising a child that has down syndrome alone. I didn't write a story-outline. It literally played out like a movie in my head and I just ran with it.
Is there any part of Tess, your Main Character and Paisley's mother, that comes from your own life?
Both of my novels, PAISLEY MEMORIES, and DANCING WITH DANDELIONS, are works of fiction. The only similarity I have with the character Tess is that we both have a daughter with down syndrome. It is not a recollection of my life with her. Although, I have incorporated a few snippets of funny things she may have said growing up or a random scene slightly altered to fit the story.
What is your writing process?
Do you outline the story first? I have never written an outline. I'm a fly by the seat of your pants kinda writer. I write where the story takes me. I might be working on Chapter four when something comes to mind that I want to happen later in the story and I'll jot it down to be merged into the story later.
Are you a panster who just sits down and writes? I don't have a scheduled time that I write. Almost every single time that I've designated or scheduled a time to write, something comes up. Whenever I have a free moment, and I'm not sucked into the social media world, I'm writing.
Do you write the story in your mind before you ever put pen to paper? Of course! It plays out like a movie for me and my little chubby fingers have a hard time keeping up on the keyboard.If I think too hard about a story-line, the writing reads as if it's forced and I end up starting over.
Who is your favorite author and why?
I think this is the hardest question for authors to answer. For me, it varies. It really depends on what I'm reading at the time. Currently, I'm reading Flight of the Sparrow by Amy Belding Brown. It's a glimpse into the life of Mary Rowlandson, a Puritan wife that was kidnapped by Native Americans in seventeenth-century Massachusetts. It's loosely based on her account retelling of the actual events. I'm thoroughly enjoying it.
What are you currently working on?
I'm working on two novels. The third, and final, novel in my Paisley series and a historical fiction novel about a young woman who is accused of witchcraft during the Salem witch trials of 1692. The Paisley series is published through SYP Publishing. The historical fiction novel will be self-published.
Is writing your fulltime job?
Not at this time, but that is my goal. I relish taking extra days off from work that flow into the weekend. I'm able to get a small glimpse of what life as a full-time author will be like.
What was your favorite book growing up?
I didn't have a favorite. But the ones I enjoyed reading were The Little House on the Prarie series and any books that involved animals.
What's one thing you'd like to share with my readers about you, your life or your books?
Writing has always been enjoyable for me. Even the editing process. Some authors hate that aspect of getting their manuscript ready for publication. I see it as making my baby the best it can be. I have so many story ideas rolling around in my head. As long as people enjoy reading my stories, I'll keep writing them.
Keep your eye on Zelle! I'm expecting great things from her!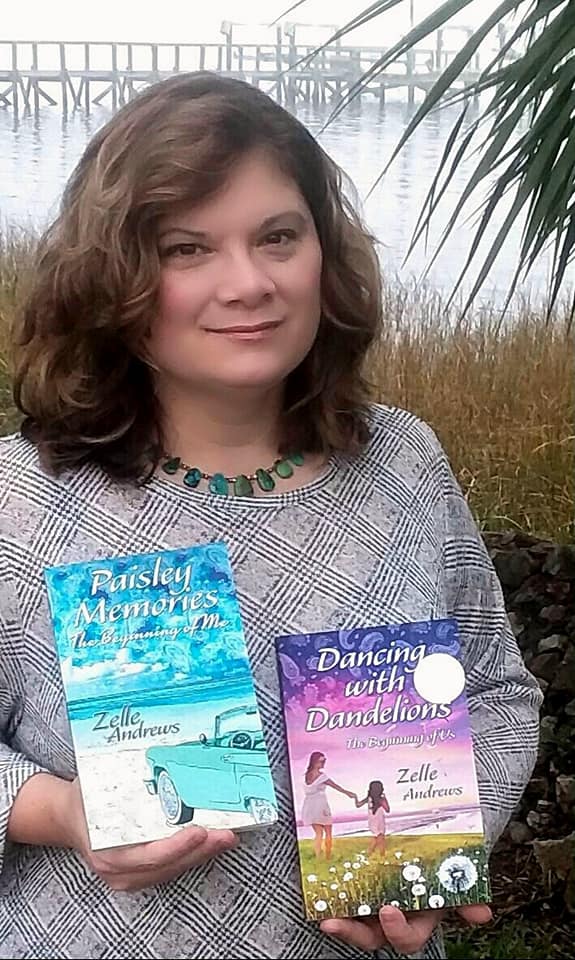 Until we read again📚…
Blessings,
Dana L. ❤️
---