I first met Rhonda Goodall when she joined the SYP Publishing family of authors. She is such a positive force in bringing sensitive issues for kids to the forefront, but in an age appropriate way, that I couldn't help but be drawn to her. Her story is wonderful, and you need to hear it in her own words.
I know you will  enjoy this interview with my friend, Rhonda Goodall.
    When you were a little girl how would you have finished this sentence "When I grow up I want to be a ……….
Mom, a Nurse (working with children), and an Artist on the side.
   Did you achieve that dream?
I achieved the most important one – becoming a Mom!
And although life took a different path from Nursing and working with kids, I spent several years doing artwork for various Children's Charities and Organizations. And now, I am achieving my goal of helping children every day through my writing.  I illustrate my own books (ergo the artist on the side 😊)
I absolutely love what I'm doing in life, so I am achieving my dreams!!!
   When did you know that you wanted to be a writer?
It started about 11 years ago, when I wrote the text for my first (2) books. I loved developing the stories, and actually, how easily the thoughts and story lines were coming to me. However, we were busy raising young children and I didn't really have, or make, the time to see the books through and illustrate them, etc., to complete them.
They sat, stagnant, for several years.
Then, 5 years ago, after very suddenly and tragically losing my Mom, I knew I had to really throw myself into something that would consume every free moment I had. Through the help of my husband, Doug, my family and one of my many wonderful friends at the time, I illustrated my original 2 books and they were published.
I was not only realizing how much I was enjoying writing and illustrating books, but I was realizing what a catharsis it was for me.
    What inspired you to write children's books? Especially books that deal with chronic illness and the loss of a loved one.
My heart, my Children and my love of Children inspired me to write Children's Books.
Having a child with a medical condition (Type One Diabetes) and realizing how that condition could make him feel very different form his peers, was the inspiration behind "My Pancreas Needs Glasses". This book, as well as my others, allowed me to use my children, as well as many of our family members, as characters in the books.
Losing my Mom, and the terrible impact it has had on my kids, was the inspiration behind "Where'd Grandma Go". Because "My Pancreas Needs Glasses" focuses mainly on Zach and Julian, two of our older boys, I wrote "Where'd Grandma Go" through the voice of Sage, our youngest son, who was only 4 at the time of my Mom's accident.
Although the goal behind this book is to help young children deal with the pain and confusion of losing a loved one, I actually think it can help anyone facing this very real and difficult situation.
    Was there one book in your childhood that was especially meaningful to you?
I don't think there was one in particular, but I've always been a huge fan of Mr. Rodgers, Winnie the Pooh, Dr. Suess and the book, "The Giving Tree".
   When you find time to read for pleasure, what genre or type of storyline are you drawn to?
In the last 5 years, definitely more Spiritual Books that are based on true life (or after life) experiences. I find books like "90 Minutes in Heaven", "Hello From Heaven" and "Appointments With Heaven"(which I'm currently reading,have been very comforting for me.
I also like combination Detective, Thriller and Romantic Mystery's.
    If there was one thing you could do over in your life, what would it be?
I'm sure there are probably a couple personal things, but overall, I'm happy with who I am and the majority of the choices I've made in life. I've always chosen to live life in a way that hopefully, when my time here on Earth is done, I will have as few regrets as possible in regards to the choices I've made and how I've treated others.
   At the 2019 Florida Authors and Publishers Presidential Awards your book

My

Pancreas Needs

Gl

asses

was awarded a Silver Medal. How did becoming a National Award Winning Author change you and your life?
Winning hasn't changed me as a person at all, other than the fact that I feel very proud, and honored. Winning has also given me a very strong drive and desire to do it again! And hopefully, someday, it will be Gold!
As far as changing my life, it's extremely rewarding to be recognized as an Award Winning Author. I feel as though I've accomplished something wonderful and as grateful as I am, I'm hungry for more!
   What do you enjoy most about being an author?
I love that I can create a storyline in my mind, develop it as I go, draw the pictures to tie it all together and end up with something that a child can hold in their hands and not only enjoy, but in many cases because I deal with real life situations in my books, find comfort and even security in it. I love knowing that I am helping kids through my writing! It's so rewarding when kids or parents contact me to let me know how much they, or their child loves one of my books!
I also love all the people that I meet through visiting schools, book events, etc.
Did you have a career outside of writing before publishing
My
Pancreas
Needs
Glasses
?
I had been a stay at home Mom since the kids were born, but prior to that, I worked in the Medical Field while at the same time, doing artwork for several Children's Charities in and around Pittsburgh (Children's Hospital, the Ronald McDonald House and the Children's Miracle Network). Doug and I also had an Ice Cream Shop in our last couple years living in Pittsburgh.
   Tell us about you. Your family, your dreams…what makes Rhonda who she is?
Hmmm…
Well, I'm a wife and a Mother of five living in Ponte VedraBeach, Florida with my wonderful husband, Doug, two of our children and our Golden Retriever, Ollie. My step children, Nicole and Jesse, are both grown and living with their families in Pennsylvania. Our son, Zach, is living in Gainseville, going to school and writing for Sports Illustrated. Our son, Julian, is a senior in High School who loves to surf and our son, Sage, is a third grader, who loves doing what third graders do. I adore my husband and ourchildren!
Family is everything to me and I'm so grateful that I'vealways been extremely close to my parents and my entire family and extended family, in every direction that goes!
I've actually used my parents and many family members as characters in my books.
I am someone with a very strong Faith and Belief in God.
I love the beach and the Peace I feel while there. I'm truly a people person. I talk to everyone, and before long, we're friends.
I'm a huge Pittsburgh Steeler fan (and football in general), as well as a Pittsburgh Penguin fan.
I do like the Jacksonville Jaguars, but they're number two. Doug, the kids and I all enjoy football and music a great deal and make both of them a big part of our lives. Maya Angelou is an inspiration to me and I'm an animal lover.
I've spent the majority of my life working with children. I have an incredibly strong passion for molding every child's world into a safe place of happiness, love and kindness. This message is conveyed in the books I write, as well as every character I introduce. Kid's immediately fall in love with these unique and fun characters and don't realize that they are learning loving life lessons from each and every one.
I wish the world we live in could be more like "Happy Town", where Frizzle and his friends live. Where characters are kind and supportive of each other. Where they find a way to always help others in need, and, as will be seen in my next book, "Frizzle's Funky Day at the Zoo", they discover how much happier people (and animals in this case) are when they're allowed to simply be who they are and not what others want or expect them to be.
My hope in life is that I am making a difference in this world while I'm here!
If there was one thing you want my readers to know, what would it be?
Wow, there are a lot of things, but since I've already talked so much, I'd say this:
That this is one of my very favorite quotes. I got it from my Dad…
"A hundred years from now, it will not matter what my bank account was, what sort of house I lived in or what make of car I drove.
But the world may be different, because I was important in the life of  a child."
​​​​​Author Unknown
                             Meet Rhonda and Frizzle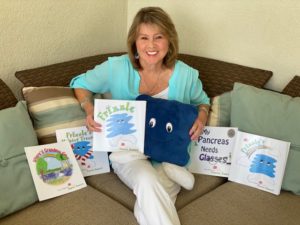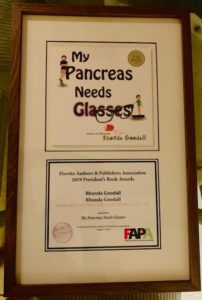 Rhonda's books are available on the links below.
https://www.amazon.com/Rhonda-Goodall/e/B01G5Z66NI/ref=ntt_dp_epwbk_0
Until we read again…📚
Blessings,
Dana L. ❤️