When I was thirteen or so, there was a television program on called That Was the Week That Was. I believe it was on Sunday evenings, and looking back, it was a forerunner to Saturday Night Live, and all the political satire that faces us on every late night talk show. The premise was to look over the happenings of the week, and that's where my reference comes from.
You don't need to worry, I'm not good at satire, but last week was definitely my "week that was", and I want to share some of it with you.
If you're a Twitter user you understand about the character limits on tweets. It's a learning curve until you get use to it, but basically you have 280 characters in which to get your message across. When I first started with Twitter the limit was about half that, and you can imagine what that was like.
Anyway, last week was one of the four pitch wars to Literary Agents that happen on Twitter every year, and I participated. And, because I wanted to do my best, I joined a Facebook group with a leader in the publishing industry to learn how. What a learning curve! #PitMad, as it's called, has rules, special hashtags, and lots of writers, all hoping to get a "like" from an agent, although few actually do.  It's fun and stressful, but I'm glad I participated. Regular Twitter users are not supposed to like tweets that use the #PitMad, so that the agents can, but they do anyway, and it can be daunting. I had forty seven likes on one of my pitches so I had to check each one in hopes they were coming from an agent. They weren't, which I hated, but apparently other people liked my post! I wanted to be unique so my first pitch of the day I wrote in first person, and boy did it get a lot of interest. I've written it below to help you understand.
This is a pitch for the book I'm working on about a woman on the wrong side of fifty, who's looking for some meaning to her life.
I HAVE A SECRET…
A friend of mine has become flirtatious, and I like it. A lot. Oh, and by the way. I'm a 58 year old married woman and my friend is a gorgeous single man, 13 years my junior.
I'm in deep shit.
#PitMad #WF #A (The #WF means the book is Women's Fiction and the #A means it's for adults)
I received all kinds of comments on that post, but I also got 150 new followers, so all wasn't lost.
That all happened during the day on Thursday. That evening I held an outdoor book signing in conjunction with Light Up Downtown in Muncie, Indiana, the place where I grew up. It was cold and festive and tons of fun. But the best part was Robin, who comes every year for the newest release in the AMI Series. She buys them for her daughter, who teaches in another city, and went as far as to say she came to the event especially to purchase The Greysons. It was a magical evening.
This is Robin pictured with me inside the vendors tent.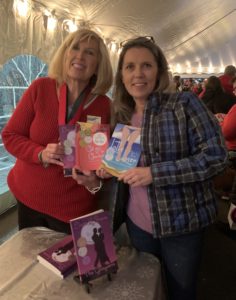 On Friday morning I ventured to Centerville,Indiana to the Warm Glow Candle Outlet Holiday Open House. It's another annual event, and it's always so much fun. This year there was another vendor set up behind me, and like me, you won't believe it! Warm Glow is pet friendly, so two therapy animals were brought in to visit with the shoppers. And not two small animals either! A 150 lb dog and an alpaca. You might want to read that line again!
Meet Griffy and Lucy. Best friends and the gentlest animals you'll ever see. They were onsite for two hours and in that time tons of people stopped to visit them, or get a picture. And the best part for me? They also came by my table. Anytime I can have a conversation with a perspective reader is a WIN, as far as I'm concerned, and I had lots of great conversations with some wonderful people!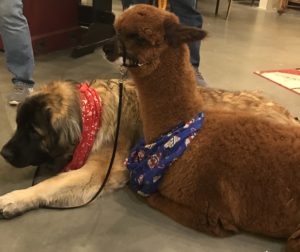 On Saturday I went back to Warm Glow, and had great time. A few people were returning readers from last year, a few bought the set, and a few wanted to dip their toes in the water, and only bought Lottie Loser. Regardless, it was a wonderful  day with lots of sales and conversations about my bank to books story.
So now you have my week that was. It's rare for me to have three signing events so close together, but I loved every minute of the time spent sharing my story, and telling shoppers about Lottie Loser, Call Me Charlotte and The Greysons. I also enjoyed #PitMad, and I look forward to doing it again in the spring. Fingers crossed it won't be the same week as other book events.😉
Until we read again…📚
Blessings,
Dana L. ❤️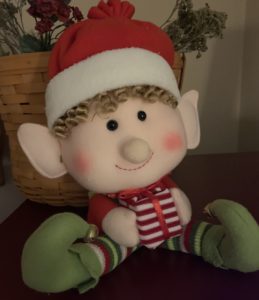 This little guy is Dancy. I bought him as a remembrance of my dear friend Nancy, and the time we share together at the Warm Glow event. She goes with me every year and having her there is such a joy.